CRIME VICTIM REPRESENTATION ATTORNEYS IN WEST CHESTER, PENNSYLVANIA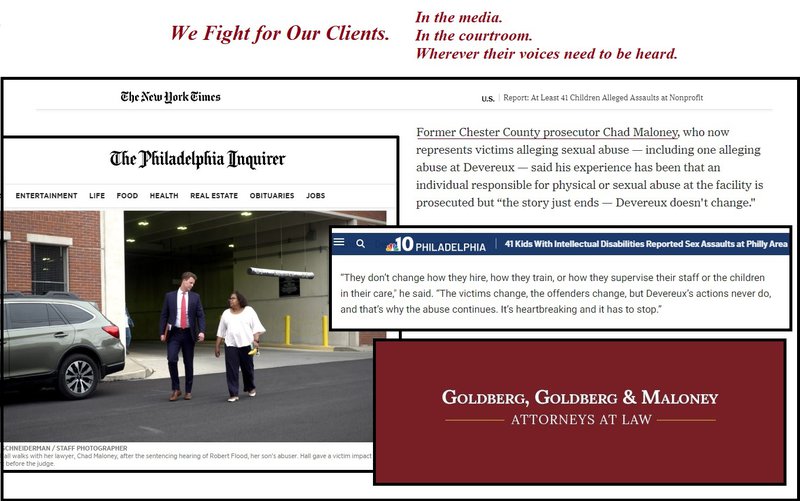 IT'S TIME TO FIGHT BACK
We recognize that far-too-many innocent members of our community have been harmed or injured by another's criminal conduct.
Having represented victims who have been murdered, sexually assaulted, and otherwise victimized, we understand the long-lasting affect these incidents have on our clients, their family members, and friends. In these sensitive times, our attorneys strive to do whatever is possible to bring about the maximum amount of civil justice owed to our clients, while considering the painful impact these events have had on them.
Our firm is equipped with trial-tested former criminal prosecutors who understand that each of our clients situation is unique and each client requires and deserves a specialized, tailored approach to achieve the best result. That is why, at Goldberg, Goldberg & Maloney, we will help you bring guilty parties to justice while you focus on your family's needs through this very trying ordeal.
If you have been victimized in the Philadelphia area or beyond, do not hesitate to reach out to us to discuss how we can best advocate for you.
We have represented numerous children and families in actions against abusive people, as well as institutions, such as Devereux Advanced Behavioral Health, stories which received nationwide media attention.
See full coverage, with comments from our attorneys here:
https://www.inquirer.com/news/inq/devereux-advanced-behavioral-health-abuse-children-pennsylvania-20200811.html
SCHOOL-INSTITUTIONAL ABUSE ATTORNEYS
Cases of violent abuse, sexual abuse, child molestation and other types of child injury cases by predators are very common in Pennsylvania and often go unreported. Child abuse, exploitation and molestation cases occur both where there are large numbers of children as well as in areas where there may be only a few children. It is the duty of organizations and their staff that provide childhood extracurricular activities, guidance, or education to do everything in their power to protect children.
This means that if a leader within those organizations has had questionable, inappropriate or illegal relations with a child, he or she should be thoroughly investigated and brought to the attention of law enforcement. If organizations fail to do so, they could face substantial civil liability. In a situation as serious as this you need the help of a skilled child abuse attorney to defend and protect your child's rights.
At Goldberg, Goldberg & Maloney we will aggressively protect your child and your family by holding negligent parties and entities liable to the fullest extent of the law. Our team of former prosecutors is experienced in handling Devereux abuse cases and similar instituational abuse cases, and we are dedicated to pursuing justice for our clients.