Why choose Chad Maloney and Matt Brooks to represent you in your Camp Lejeune claim?
FAMILY MATTERS
Chad and Matt both come from Marine Corps families.
Chad was an Active Duty Marine from 2010-2014, serving as a JAG Officer. Chad's father also served in the Marines in the late 1960s as a Combat Engineer. His dad deployed to Vietnam for 13 months between 1968-1969. Unfortunately, Chad's father also spent time at Camp Lejeune and was exposed to the toxic water supply.
Following law school, Chad chose to follow in his father's footsteps by entering the United States Marine Corps. Despite already being an attorney, Chad spent nine months in intensive military training earning the title of Marine while learning how to be a rifleman first.
Matt's father served in the Marines in the early 1970s as a Basic Ammo Technician. Matt's father also spent time at Camp Lejeune and was exposed to the toxic water supply. Unfortunately, in 2019, Matt's father passed away from health conditions possibly linked to his toxic water exposure at Camp Lejeune. Matt now fights, not only for all of our clients, but also for his dad.
Matt comes from a military family. Matt's wife is an Air Force veteran who currently serves in the U.S. Public Health Service. Matt also has multiple family members who have served in the Marines, including his grandfather, cousin, and uncle who combined saw combat in WWII, Korea, Vietnam, and Afghanistan.
When Matt was 10 years old, his grandfather passed away from complications associated with Parkinson's Disease. Matt's father gave the eulogy and his closing line, "Give 'Em Hell, Marine!" has always deeply resonated with Matt. Matt is personally committed to fighting for all Marine families, including his own.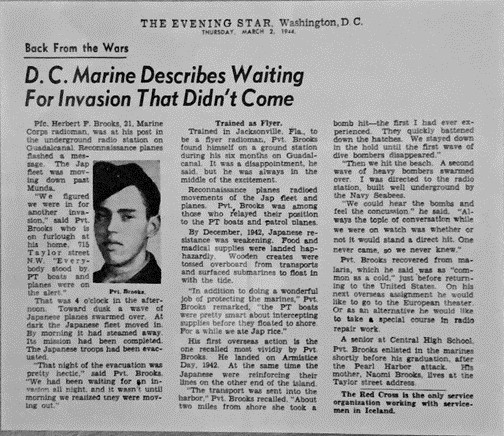 An article about Matt's Grandfather in World War II.
EXPERIENCE MATTERS
Chad and Matt have extensive litigation experience at the local and federal levels. Before joining Goldberg, Goldberg & Maloney, Chad was a Marine JAG Officer and Matt was both a federal prosecutor and fraud investigator. Combined, they possess a unique skill set, blending courtroom expertise with a deep understanding of federal government programs. Chad and Matt are confident their combined skillsets uniquely qualify them to successfully handle Camp Lejeune lawsuits.
RESULTS MATTER
Chad and Matt are experienced trial attorneys with a proven track record of successfully fighting for victims. Chad and his team at Goldberg, Goldberg & Maloney have secured millions of dollars through both settlements and trial verdicts on behalf of their clients. Before joining Goldberg, Goldberg, & Maloney, Matt successfully prosecuted violent and white-collar criminals and later investigated wrongdoers resulting in decades of prison time and millions of dollars in restitution returned to the federal government.
COMMUNICATION MATTERS
Chad and Matt will be co-counsels on your Camp Lejeune lawsuit. That means if you have questions or concerns about your case, you can call Chad, Matt, and their team at Goldberg, Goldberg & Maloney for updates. Unlike calling a number from a TV advertisement and reaching a person at a phone bank, when you work with Chad, Matt, and their team, you are treated with dignity and respect. Your Camp Lejeune lawsuit matters to us, and you matter to us.
TEAMWORK MATTERS
Chad, Matt and their team at Goldberg, Goldberg & Maloney have partnered with a law firm that is a nationally recognized leader in environmental litigation, having successfully recovered hundreds of millions of dollars for victims of ground water contamination. Our partnership is entrusted by the VFW and NERA to represent Marines and their families seeking justice for injuries caused by the toxic water contamination at Camp Lejeune. By combining Chad and Matt's trial experience and Marine Corps knowledge, with the subject matter expertise of our partnering law firm, we've created a team uniquely qualified to fight for you and your family.
LEADERSHIP MATTERS
Chad is co-leader of the Military Advisory Board for Camp Lejeune lawsuits, a group of veterans working with the team at Goldberg, Goldberg & Maloney and our partnering firms to ensure veterans and their families are taken care of. We're fighting for Marines and their families, not taking advantage of them.